Discussion Starter
·
#1
·
Well, it's been one week now since Daisy came into our lives and since I decided enough is enough, with the Doobster. So, we'll start with Dooby first, for those of you who have just joined, very briefly, since Dooby's big hormonal moult at the age of approx. 6 months (he's now one year old) I have suffered with him, he was nasty, biting and just generally being horrible. No matter how I worded it on here and listened to people's advice, I couldn't get him to behave any differently until...
http://talkcockatiels.com/showthread.php?t=4679
I posted that video clip and the advice I got was fantastic. People could
see
what I was doing wrong. So, the very next day (I had to psych myself up) I started working with Dooby. I just went for it, gritted my teeth and put my hand out to him, making him step up! He went for me, bit and lunged but was so surprised when my hand just kept on coming and didn't back off, that he actually stepped up! I haven't stopped since then and now, I have my old Dooby back, I would say 8 times out of 10, he will step up without lunging and biting and the other times when he does, I just keep going with my hand until he does it. I'm no longer afraid of him because although it hurt very much when he bit me (he was drawing blood most of the time) as I've got more confident with him, he's got less and less bitey. So that's just fine.
Now for an update on Daisy:-
Daisy came into our lives last Monday 16th June, in the week that she has been with us, she has changed from being a quiet little baby, to a more confident little girl. The first thing Dooby did was to lunge at her, she went straight back at him and from that moment on, Dooby has been a very wary little boy. It's so funny to watch them, if she goes near him, he will fly away, usually back into the cage and on
his
swing, as though to say "My swing, my swing!" They can't quite pass each other without one or the other having a little go at the other one's tails, but they are definitely getting better. They will sit together on the curtain rail, although they are couple of feet apart, they are certainly calling for each other when one goes missing. Daisy has had a bit of a disaster, like all babies do, she splattered herself into the window and cut the skin between her nostrils, but with a little bit of damp cotton wool and a lot of cuddles, she was fine again. I have never known a bird to eat like she does though, I don't know whether it is because she's still a baby or what, but when she's not sleeping or flying, she's eating. I'm not too worried about it though because she's building up her flying skills and she is getting quite a strong flyer, I can certainly see a difference in this week.
Dooby is getting braver by the day with Daisy. As if to prove a point, I've just managed to grab this photo, not very good quality, but you can see his lordship with beak open ready to bite her tail. lol.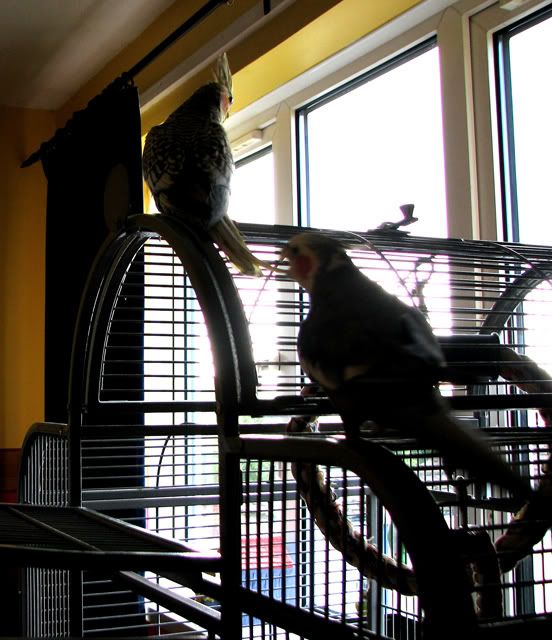 He's very much like the little boy at school, pulling the girl's hair that he is trying to impress. Daisy takes a few steps towards him and he flys to me with a sort of "Tell her mum!" look in his eye. lol. I'm sure that given time, he will get to trust her. Daisy doesn't seemed phased by him at all, but maybe that's because she was already with another tiel when I got her, so she's used to having another one around. Dooby on the other hand has been an only bird for a year, so he's got to learn to share.
All in all, I've had a fantastic week with the babies, I've got more confident with Dooby, he doesn't rule the roost anymore Daisy and I see to that. So, that's me caught up on the first week of having two tiels when I swore that I would never have another one!! Well, all I can say is, thank you so much for the advice that I got from everybody after posting that video clip because without you actually seeing what I was doing, I probably would still be doing it and still getting ripped to shreds.