Discussion Starter
·
#1
·
This is cross posted from something i wrote for Talk Budgies.
Sprouted seeds are a great source of nutrition for cockatiels. There are lots of different seeds you can buy to sprout, my favourite is wheatgrass seeds. These are inexpensive, nutritious and easy to sprout. You can try to sprout your cockatiels regular seed mix but in my experience it doesn't work very well especially if there is grit or added pellets in it.
How To Sprout Seeds
This is easy. Put the desired amount of seeds into a plastic container and cover them with water, about a centimetre above the seeds is good. Then you leave the seeds to soak for approximately 12 hours. After 12 hours is up drain the water from the container and rinse the seeds. Then put them back in the container. For the next few days you need to rinse the seeds several times a day, this stops them going mouldy. After about one or two days the seeds will start to sprout, this is the ideal time to feed them to your cockatiels. Continue to rinse the seeds several times daily until all the seeds have been fed to your cockatiels. They last about 5 days if you do this.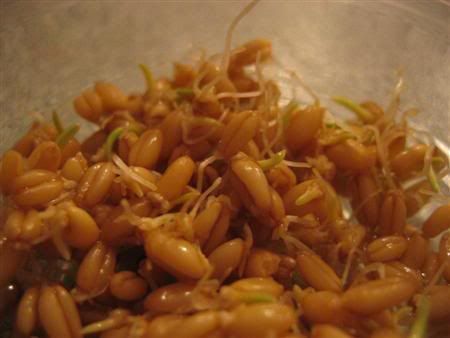 These seeds have been sprouting for a few days now and are at a good point to be fed to your cockatiels.