I love taking Roelani outside, and now that spring is finally here, I can take her out. This is her first time out this year. I am not afraid of her flying away, I know she never would. That's why she has no harness on.
Roelani is my 11 month old Female Golden Pearl split Whiteface Pied.. She's my angel and I wouldn't trade her for the world.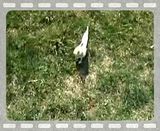 And this is what happens when her mommy decides to go somewhere.
Enjoy!