Discussion Starter
·
#1
·
I thought i would put together this quick tutorial on how to resize your photos to post or upload to the gallery. To start with you should download this handy little program called
Microsoft Image Resizer
(the link will start the download from the
microsoft website
). This is the program i feel is the easiest to use and is what i will be using for this tutorial.
So now that you've downloaded and installed Image Resizer i will show you how to use it and then upload your images to
Photobucket
so that you can share them with everyone here.

Resizing Photos
Step One
Locate the photo/s you wish to resize on your computer.
Step Two
Select all photos you wish to resize.
You select images by holding shift and selecting the first and last of the group of images you want to select, or alternatively you can hold down CTRL and click each image you want to select (allowing you to select just a few from a folder).
Step Three
Right click on one of the selected images, an options menu will pop up.
You want to click on Resize Pictures.
Step Four
Once you've clicked Resize Pictures the program Image Resizer will open. You need to click the button that says "advanced"
This will give you more options as to what you can do.
Step Five
Select Custom and type in the maximum number of pixels your images will be. I resize all my photos that i post on forums to 450x450 pixels as this comes within the limit on most boards, including Talk Cockatiels.
I don't recommend resizing the originals rather than making copies as this will make them too small to get printed or to use for high resolution things. Once you've typed in the size your images will be click OK.
Step Six
The Image Resizer will take a moment to resize your photos. Once resized they will appear at the bottom of the folder they came from and will have (Custom) added after the file name.
You can either leave these images in that folder or you can do what i do and move them to a separate folder called "Forum Size" or whatever you want.
Uploading to Photobucket
Step One
Open your photobucket account (if you don't already have one go to
www.photobucket.com
).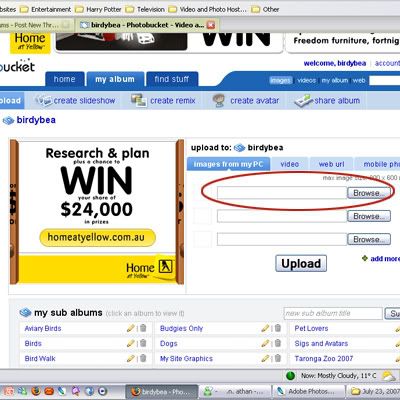 Then click browse, this will open a file browser.
Step Two
Locate the resized photo on your computer. Once you've found it click Open.
Step Three
Add any other resized images you want to upload, once you're done click Upload.

Step Four
The images will take a moment to upload to your album, then you can use the tagged link to post on the forum.
[IMG]http://i141.photobucket.com/albums/r78/birdybea/Other/10-1.jpg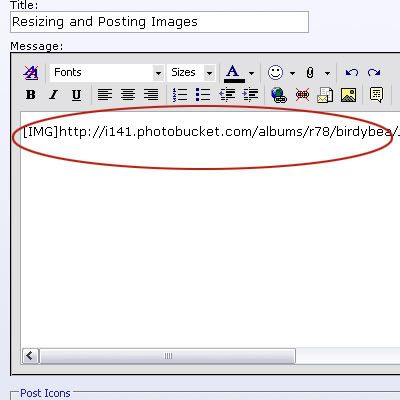 And that's it!!
Hope you've found this helpful, can't wait to see your photos!