Guess it's about time that I posted a pic of the 'tiels new cage (err, I mean castle) that arrived less than a week ago. Prospero and Wren took to it right away and slept in it the first night without any problems. It's so easy to clean compared to that horrible little brass box that they lived in before, I really wish I had got it long ago.
Enjoying an arrowroot cookie on the balcony:
Wren doing his happy dance
: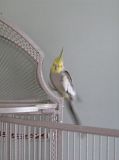 I also got some perches for the new set up including a rope and a couple sandblasted manzanita perches which they also love. I want to get rid of that dowl thing and add another rope perch too.
Ah, the things we will do for our 'tiels.