Discussion Starter
•
#1
•
Just wanted to introduce myself and my 'tiel Pixel!
earl: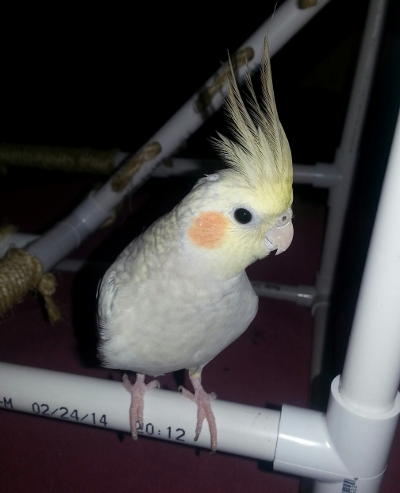 Pixel is a 6-7 months old pearl. I got him last November (an early xmas preset) from my Significant other due to my social anxiety issues. I have issues leaving the house or meeting other people (the internet is a different story, even so, Its still hard for me to usually talk with others)
I originally wanted a bigger parrot, but due to the size, couldn't have one (We live in a small 1 bedroom apartment, the noise would probably get us kicked out.)
My Significant other has had cockatiels in the past and suggested it. I couldn't be any happier! Pixel goes with me where ever I go (including the shower, he/she loves it.)
We got him from a "responsible" breeder, at the time I couldn't find any at any local shelters.
Picked him/her up from the breeder, turned out I still needed to hand feed him/her. So extra bonding for me! (this only went on a week)
he/she weaned fairly quickly and was back to eating seeds with no problem!
He/she is a great companion!
I see no barring under the tail feathers, or any extra spots on the wings. He just went through a first half molt (i guess you can call it) but ive heard of pearls going through almost 3 molts before the pearling will start to fade *shrugs* who knows?
either way, Im very happy to find such a sweet bird. hisses at my step children (one is 8, hyper as can be.) or any other person besides me and My significant other. I've probably have bonded too well O.O' But I'm ok with it. however I don't enforce the bad behavior. Pixel is put back up in his cage as soon as that happens.
Anyways.. we are very happy to meet the community ^.^
earl: