Discussion Starter
·
#1
·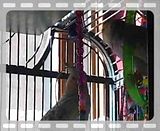 My neighbor's daughter made a little string of beads on hemp for the birds to play with. It was funny watching them play. It looks like Peaches is trying an acrobatic act and Pucca is spotting him.
I took the toy down and trimmed the string. I'm a little afraid to put it in there on a permanent basis. SO, as of now it's a special toy that is put up when somebody is around.
Am I over-reacting?
Hope you enjoy the video.