Discussion Starter
·
#1
·
Well it is now three weeks since we brought Daisy home, I had to double check that on the calendar because it seems like she has been here forever! I just can't explain the difference she has made, Dooby is my cuddly baby boy again (although he thinks he's a big man) and she is just a real snuggle bug, I'm gradually learning how to give two birds head scratches at the same time, I almost got it today and then touched a wrong feather for Dooby (ouch!) My relationship with Dooby is as it was on day one now, he is the most brilliant little man. We sit and chat and he cuddles in, I no longer worry about him biting me and if he does go to bite, I just keep going and don't pull away and he's fine! Yeah, yeah, I can hear you all saying it..."I told you so!" Dooby & Daisy are out of the cage most of the day, they fly around in this computer room and help me on the computer, or they will tidy up the telephone wire. Dooby will fly to the curtain rail, look down and say "Come on!" and Daisy will fly right up there with him. LOL. Daisy is the best thing that could have happened for Dooby and for us. We both love them to bits. I know there are going to be bad days, there is bound to be, but now I've been through it, I'll know what to expect. Oh, just one thing, you know that horrible, scratchy sort of radio going off frequency noise that baby birds make.....well, Daisy makes that noise when I'm scratching her head and Dooby is copying!!
Here are a couple of photos of the partners in crime.
Playtime.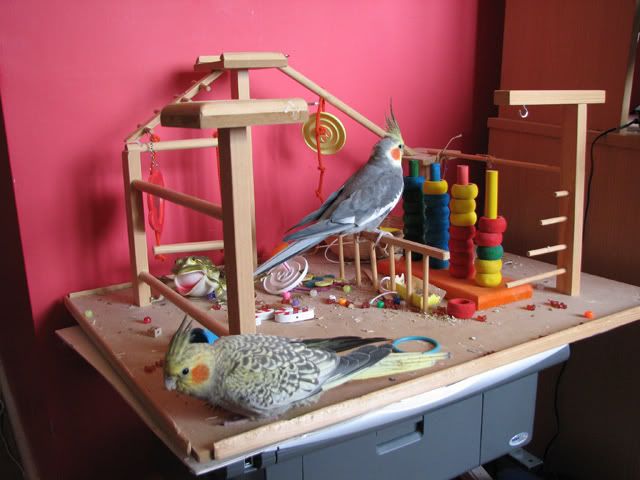 Playing is very tiring.