Discussion Starter
·
#1
·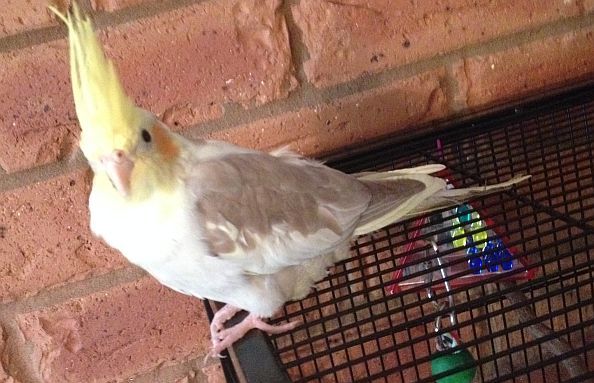 Penelope!
She's around 4 months old, and is a beautiful little girl. She's been giving me kisses already.
The only room we could put her in, the fan is not working which is strange because it was fine a couple of weeks ago. So I had no choice but to put her in the living room with the other 2 birds. What would everyone else have done? The only other place was outside in the garage, and it's soooo hot out there. I'm just praying to Big Bird that everyone is healthy, and remains healthy. Everyone's poops are fine - I've checked, no one is fluffed up, no one's nares are red, everyone's eyes are clean, feathers are healthy looking. I'll still be keeping watch. If it all goes wrong, let this be a lesson to me, and everyone.
Anyway, even though Penelope was quiet when we walked through the front door, Archie wouldn't stop flock calling her, and she did the same to him. Maybe they're saying "hey, I know your uncle/grandma/3rd cousin, Barry" or something. As soon as I let S&A out, Archie flew straight to her cage, and no matter how many times I put him back on the playtop cage, he kept flying back to Penelope. I then decided to let them all out - Archie was trying to preen Penelope right away, singing to her, doing heart wings - the lot. I think he may have a tiny crush on her, does this usually happen this fast? :/ The only time I saw him get a little cranky was when Penelope flew up to "his" curtain, but nothing happened, he just yelled at her, and then she tried to preen him.
Sadie was more interested in the fact that Penelope left some millet on the cage so of course, she spent the next few minutes demolishing that off, then flew to me for a snuggle. I don't think she "gets" that Penelope is a whole new bird. Sade is special (when she was an egg, she was kicked out of the nest.. so I'm not sure if that did any damage, but she's definitely "special" <3)
Penelope is a solid bird compared to my other two. She got a whole new bunch of toys - hasn't really played with them yet, I think she's just taking in her new surroundings.