Discussion Starter
·
#1
·
I'm sure you will remember the play perch i made: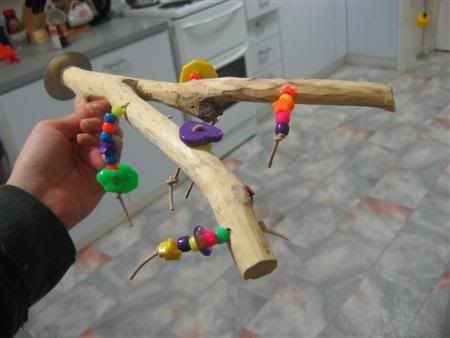 Well i made the decision that it would go to the budgies, because the tiels would chew it to pieces in no time.
First it went to hyperactive Fizzy who pounces anything colourful and loves to chew and play. Nope, it sat ignored and avoided for 4 days. So i gave it to Blinkie and Ozzie. Nope, it went ignored and avoided for another 3-4 days. *sigh* I was so sure it was a great idea!
I cleaned the cages at the weekend and decided to try it with the tiels. They had got my other homemade perch and loved it. I just have to say THANK YOU Bailee! Within a minute he had climbed down to play on the FUN new perch!
Of course my prediction that the tiels would just chew it to pieces was correct.
Most of the beads and buttons are now pulled off, but hey, i can always add more.