How To Get Your Cockatiel To Bathe
We've seen lots of questions on how to get your cockatiel to bathe. I've decided to consolidate everyone's methods that they use into one to explain how it is done.
First. The Bath Dance.
The bath dance is when a tiel opens their wings and begins "rolling around" as though water is dripping on them. If you ever see your tiel doing this and there is no water around, they are telling you that they want a bath. If you are giving them a bath and they begin to do this, they are in the mood for a bath so keep doing what you are doing!
Here is a picture and a video of what the "bath dance" looks like.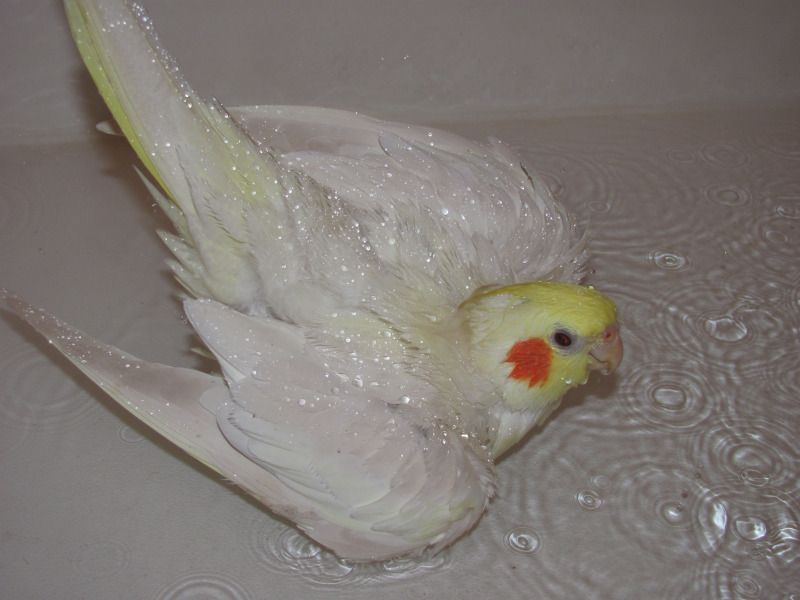 Credit to Sarah
http://www.youtube.com/watch?v=U8gXunoAYkM&feature=youtu.be
Credit to Sarah
A Shallow Dish
Some birds like to bathe themselves and you can offer them a shallow dish of warm water to roll around in. This can be a glass bowl, or a large tupperware container, etc. As long as it is bird safe material, not too deep for your bird, and your bird fits(wings will be expanded during bathing so be sure to account for that), you can use it as a bathing dish. You can add something interesting (like a toy) to the water to catch your tiel's attention if they ignore the dish at first. This is great for curious and playful birds, because once the tiel gets in the water to examine what you have put in the dish, they discover the water! And then you can hope your tiel will get the idea and they will start bathing themselves.
Here is a picture of a tiel using her clip on shallow bathing area.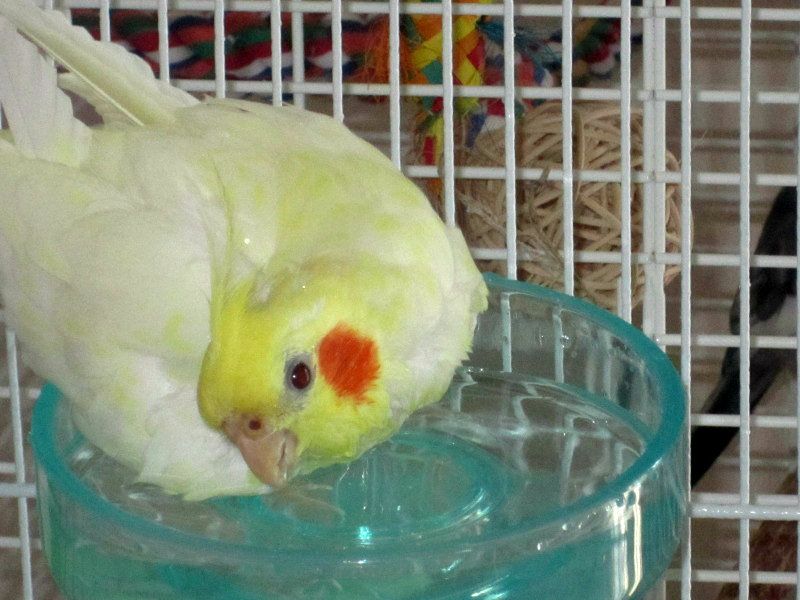 Credit to enigma731.
Credit to enigma731.
Here is a video of a tiel taking a bath in a shallow dish.
http://www.youtube.com/watch?v=Bojt3sAN7h4
Credit to Jaime.
Misting
Misting in the most commonly used approach to bathing your birdie friend. Most people choose to buy a regular spray water bottle from the dollar store or any other store. (I got mine at Walmart for .94) Please make sure the bottle you buy is new and has never contained a harsh chemical or any substance other than water. Some people buy the motorized mister that you can get at pet stores specifically for birds. This can be reused with regular water and is very helpful for people with large flocks so they don't have hand cramps after spraying so many tiels! The motomisters are little expensive and unnecessary, so if you only have one or so tiels- it is cheaper to just by a regular spray bottle. If you do not feel comfortable getting your bird out their cage to mist them, you can mist them in their cage. If you are comfortable with your bird being out of the cage for a bath, place them in an area you don't mind getting wet and mist away. Please use warm water in your spray bottle. Cold water being sprayed can be uncomfortable in an air conditioned house for a bird. It has been said that the best technique for spraying a bird is from above so the water falls down on them. This way they are not getting a harsh spray to the eyes or nose. If your bird is accepting of the mist spray, they will open their wings and begin the "bath dance." If they are not happy about being misted, they will run from you. lol.
Here is a picture of the type of bottle you are looking for.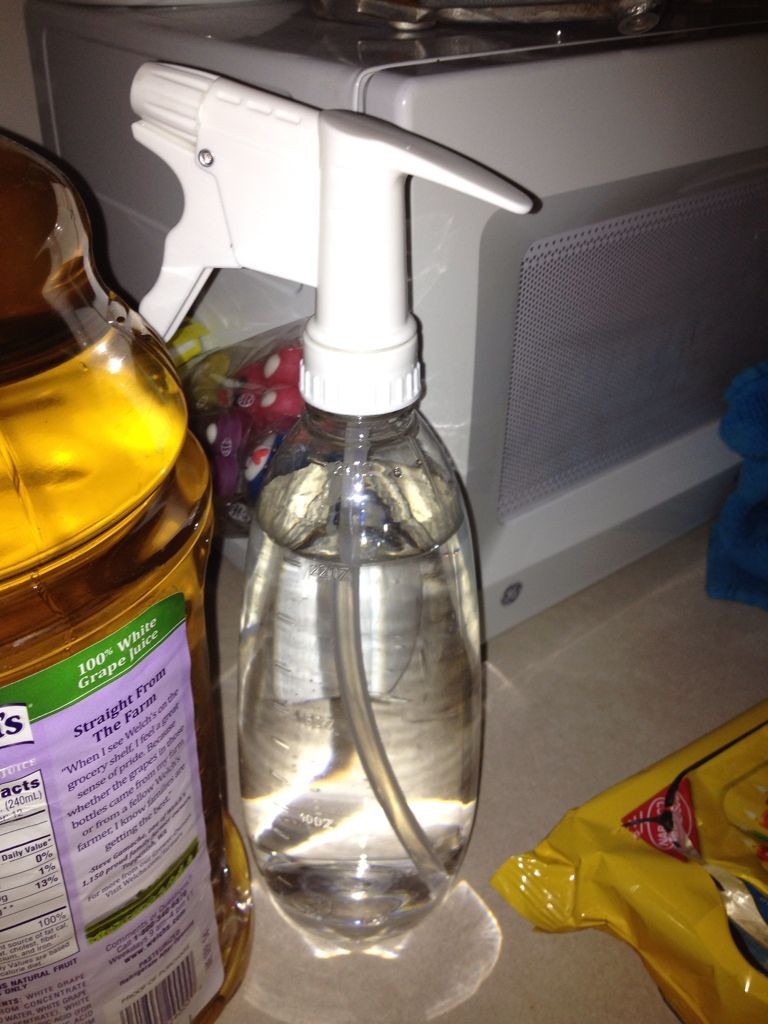 Here is a picture of a bird being misted.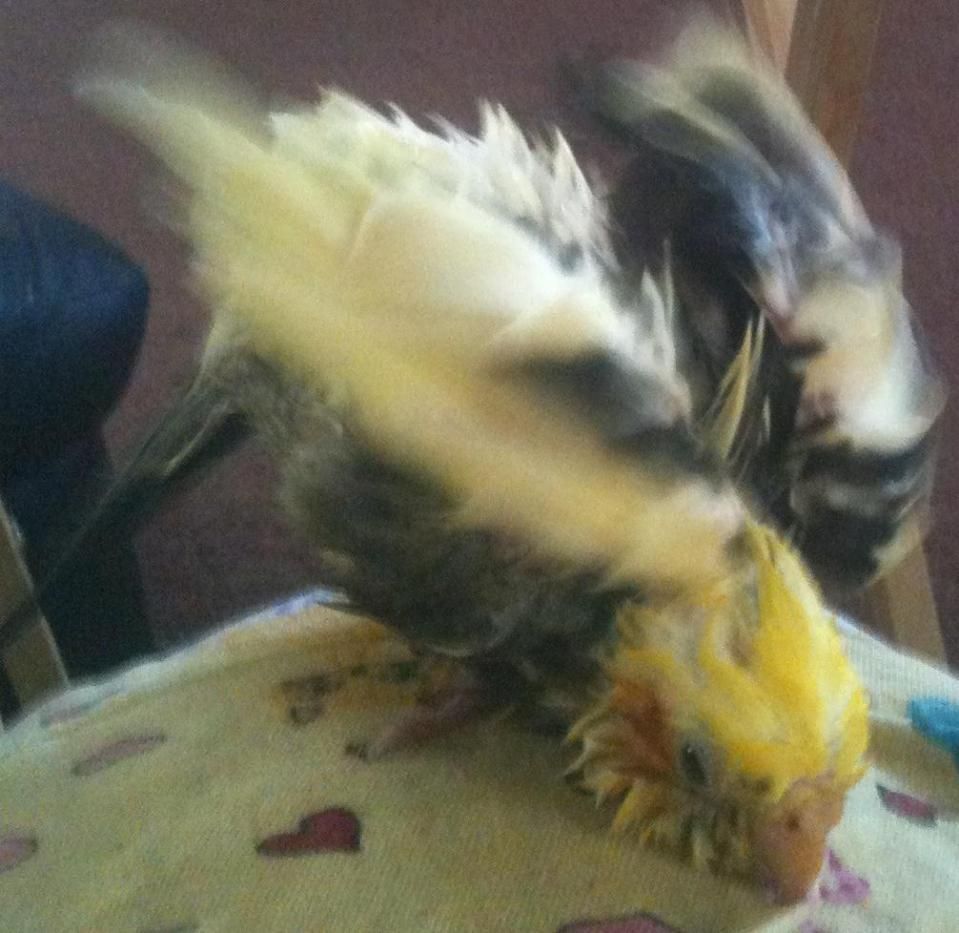 Credit to Jaime.
Here is picture of a tiel being misted in their cage.
Credit to Loopy Lou.
Here is a video of birds getting misted.
http://www.youtube.com/watch?v=UJcybnbzf6I
Credit to Jaime
In The Shower
A lot of people who fail with the shallow dish method and the misting method often wonder, how else can I get my tiel to bathe enjoyably? One method that a lot of us have great success with is the shower. Yes, the shower. It is better for you to try this if your bird trusts you enough to climb into a tiny space and get wet with you without getting scared. The best method for allowing your tiel to bathe is to position him so that he only receives the edge of the mist of the shower or holding them outside of the spray of the shower and letting the water bounce off your hand and on to them. (Illustration below) You can also sit your tiel on the bottom of the tub and point the shower head high up at the back wall of the shower. The water then falls down the wall and into the tub. They also get the fine mist water that doesn't make it all the way to the wall and that bounces off the wall. This is great for showering multiple birds at once. If your tiel does the infamous "bath dance" then you know they are enjoying showering with you.
When in the shower, some tiels will close their eyes, sway, and just enjoy the water instead of doing the "bath dance." This is known as the "the shower trance." It's perfectly safe and your tiel is just really loving his shower.
If your tiel is not accepting any of these methods, we have had a member (Sunshine2009) suggest playing thunderstorm noises while running the shower. She has had success with this as they accepted it and began to bathe.
Here is the illustration.
Here are some tiels on the bottom of the tub, catching water from the wall.
Credit to RoxyCulver.
Here is a tiel catching the edge of the water in the shower.
Credit to Sarah.
The tiel on the lower perch is in a "shower trance."
Here is a tiel doing the "bath dance" in the shower catching the edge of the fine mist.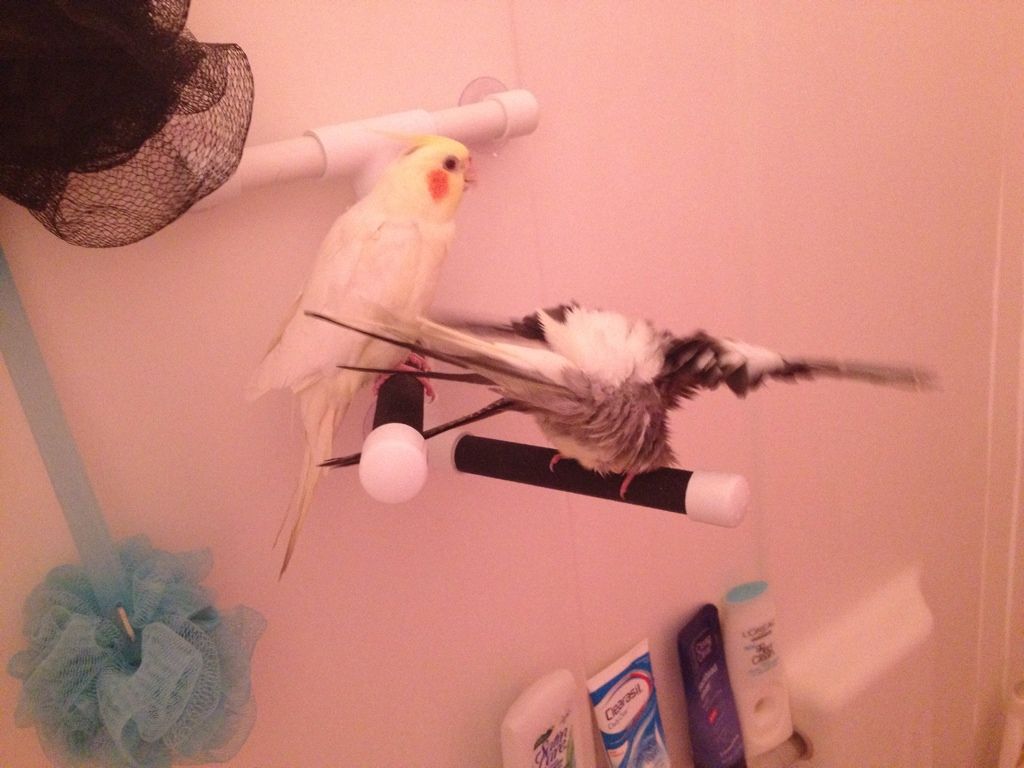 Here is a video of a tiel bathing in the shower.
http://www.youtube.com/watch?v=zrxF41aw9EI&feature=youtu.be
Credit to Sarah