Lutino, pearl, cinnamon and sex-linked yellow cheek (SLYC) are sex-linked recessive genes that are passed from parent to offspring according to fairly complicated inheritance rules. With birds, the sex chromosomes are XX for males and XY for females, which is the opposite of the human pattern.
The sex-linked mutations are carried on the X chromosome and there's nothing on the Y to offset it. Females get their X chromosome from their father, and if there's a sex-linked mutation on that X they have to be visual for the color. This is because this gene will not be paired up with a gene on the Y chromosome; it will stand alone so there's nothing that can interfere with it. Females can't be split for a sex-linked mutation. If they have the gene they will be visual, and if they aren't visual then they don't have the gene.
The inheritance rules are different for males since they get one X chromosome from each parent, and a mutation gene on one X will be paired up with a gene on the other X. The sex-linked mutations are recessive so males have to get the gene from both parents in order to be visual. If they only get the gene from one parent they will be split (carry the gene without being visual) and can pass the gene along to their own offspring.
The designations X1 and X2 are used to indicate the X chromosome that a male got from his father and mother, respectively. When you're using the genetic calculators it doesn't really matter which parent the gene came from, but what does matter is to arrange the genes correctly while you're setting the male's characteristics. If he got the cinnamon gene from his father and the pearl gene from his mother, you'll get very different results than if he got cinnamon pearl from one parent and nothing from the other. In the first case the genes are on different X's and in the second case they're on the same X.
When a male is split to two or more sex-linked recessive genes it is possible to have crossovers. This means that two genes that were on different X's in the father end up on the same X in the offspring, or vice versa. Females don't have crossovers since they only have one X, and the sex-linked mutations on it don't have anywhere else to go. You can learn more about crossovers at
http://talkcockatiels.com/showthread.php?t=14638
A female that is visual for a sex-linked mutation will pass the gene to all of her sons since they get her X chromosome which has her sex-linked mutations on it. But she will not pass the gene to any of her daughters because they get her Y chromosome which does not carry color mutation genes. A male gives one of his X chromosomes to all his offspring so he can pass his sex-linked genes to both his sons and his daughters.
Here's a quick and simple way to remember how it works: to get a male who is visual for a sex-linked mutation you must have a mother who is visual for that mutation. If you have a baby with a sex-linked mutation and the mother is NOT visual for that mutation, the baby has to be female. If the mother IS visual for that mutation then the baby can be either male or female.
The father has to be either visual or split to a sex-linked mutation in order to get any babies who are visual for that mutation. If the father doesn't have the gene then you can't get any visual babies no matter what color the mother is.
Whiteface and pied are not sex-linked so they follow the normal rules for recessive genes: the baby has to receive one copy of the gene from each parent in order to be visual, and both males and females can be split.
Here are some examples showing the results for different parent combinations. The examples use Punnett square diagrams which are a standard method for displaying genetic outcomes. There is a row for each of the mother's sex chromosomes and a column for each of the father's sex chromosomes, and each intersection of a row and column shows the characteristics of the offspring who received these chromosomes.
In these examples, a red X indicates a chromosome carrying a color mutation gene and a black X or Y indicates a chromosome with no color mutation genes.
The image display looks a bit fuzzy on the forum, so below each image is a link to the original which is clearer.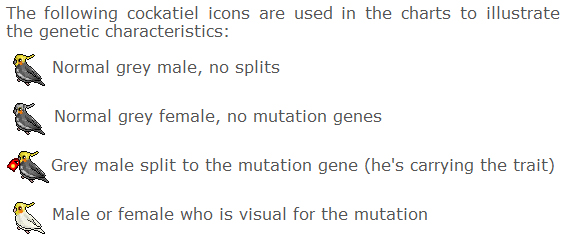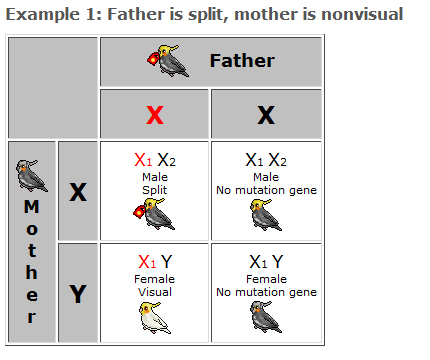 http://www.littlefeatheredbuddies.com/images/info/sexlinked1.jpg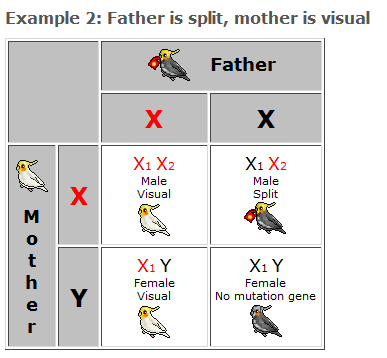 http://www.littlefeatheredbuddies.com/images/info/sexlinked2.jpg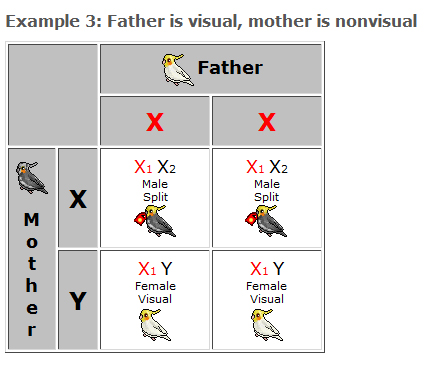 http://www.littlefeatheredbuddies.com/images/info/sexlinked3.jpg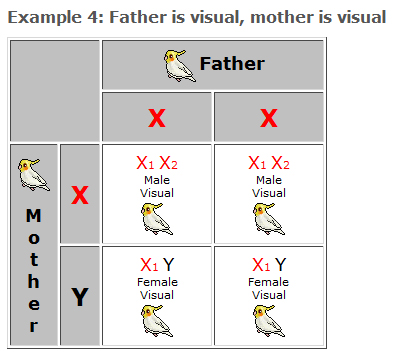 http://www.littlefeatheredbuddies.com/images/info/sexlinked4.jpg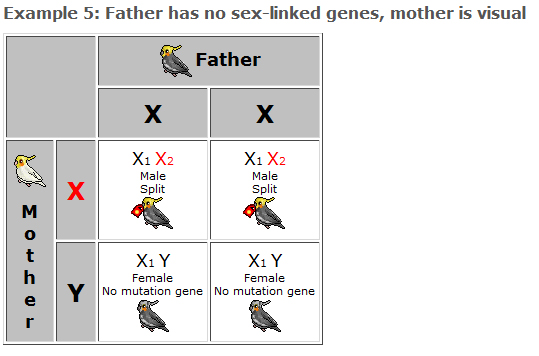 http://www.littlefeatheredbuddies.com/images/info/sexlinked5.jpg