Hi,
my name is Asad. I am a student. I had a friend on another forum that told me about TalkCockatiles. I am glad to be here. I've been reading some of the post for about a week now. I find it very beneficial and very informing and the people are very kind and respectful. I do have 3 cockatiels; 2 are living with me and one is on vacations
. He's at my brother's house. I sent him there because he has wing feathers to grow and he had hard time in the big cage that I had at my house. His name is Dusty(He's bout 6 months old.He sings alot and learning from Sparky). My other 2 cockatiels are Lutinos. A young female(6 months old) named Star and a 2 years old male named Sparky(He talks and sings more than enough). All of them are very tame. I only have a pic of Star and Sparky at this time. I will soon post Dusty's pics also. I do have 2 Budgies(Banana and Clouds) and a Doll-face persian kitten named Dunfush. My brother always say that I should open up a zoo.
. What can I do; I love animals. I hope that I will be accepted here as a friend. Thanks for taking the time to read and sorry about the long post.
Here's pics of Star and Sparky
Star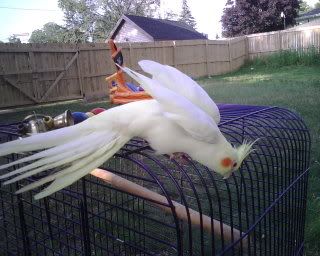 Star and Sparky(he's on the right side of the screen-Star was out of bath in this pic).