Discussion Starter
•
#1
•
We have two cockatiels, one dove and one parakeet. I recently built them a playgym made from pvc pipe because the store bought one we had before was getting a little crowded and buying a bigger one would have been too expensive. I am now in the process of filling it with toys and such to encourage activity.
I've been reading about foraging toys and would really like to try them. However, never in their birdie lives have they come across anything like them. They're used to being fed on silver platters like the royalty they are (haha).
Anyway, I was wondering if anyone has had a similar experience with their middle aged birds, simple foraging toys to start them off or how you encouraged them towards the unfamiliar.
Now the parakeet is quite young, a little over 4 months so it shouldn't be too difficult with her but I know her toys should be slightly different so anything for parakeets would be greatly appreciated as well.
Suggestions?
Your own experience?
Tutorials?
Example pictures?
I would really prefer DIY toys but if you know of any cheap simple store bought kind that worked for you please share.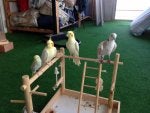 P.S the playgym in the picture is the old one