Discussion Starter
·
#1
·
I know that females can be split to white face.. and I am assuming they can be split to pied also being that neither of these are sex linked and need two entries into the gene pool to show in babies as full. Please correct me if I'm wrong on this.
My question is..
My female Pearl is 5 and a half months old. Pretty much impossible for me to tell if there are any flecks on the back of her head due to the fact of her being pearled just about everywhere. lol From what I can tell all her tail feathers have the tell tale darkened line down the center indicative of Pearls (mind you they are growing back as she was quite clumsy). Her toenails are all dark. Because nothing else fits with a possible split to pied or pied.. is it safe to say that she is straight Pearl? Or is there something else to look for?
Here are a few pics of her. I think she just might be split to white face too.. but not sure. The whole Pearl design is throwing me off a bit.
Don't mind the red on the tip of her beak.. she gave kisses to my daughter who was wearing lip gloss and then we had to wash her off.
She has some pretty wild markings under her wings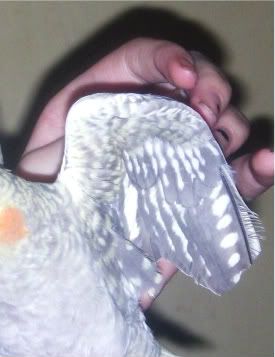 Dad is split to pied, white face, cinnamon and pearl.. and mom is split to white face only.