Discussion Starter
·
#1
·
...well whistling really.
As normal when the camera is pointed at them they don't perform to their full capabilities, but this might give you an idea of what she's doing. She's whistling the words.....I'm sure you understand what I mean. Bear with it... LOL!!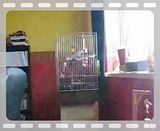 Hmmm, now I've listened to it back a bit, she's not singing her full repertoire LOL! She actually whistles that.....tickle tickle tickle tickle little song thingy that you can here, my sweet voice. LOL!!