Discussion Starter
·
#1
·
Yes, i have surrendered to the persistent mating of Cookie and Bailee (and obviously i wouldn't have done if i didn't want the babies and any consequences). Gracie has moved into her old cage (her bachelorette pad) and Cookie and Bailee have been granted a (rather massive) nest box. I have to say that compared to a budgie nest box, the bulk of a tiel one is pretty surprising!! :lol: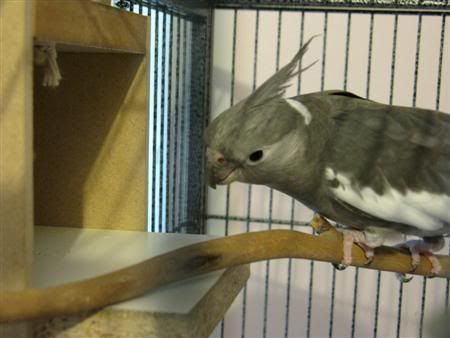 Cookie thinks it's just brilliant. She's right into checking it out, nibbling it, peeking inside.
Bailee thinks mummy's shoulder looks much more inviting, but i'm sure when he figures that this gives Cookie even more reason to mate with him he'll like the nest box just as much. :rofl:
So everyone, here is where i'll update the journey of Cookie and Bailee as they (hopefully) raise a little family. Look out world, baby Bailee's are in the making.