Discussion Starter
·
#1
·
Hello! This is my 7 week old Cinnamon baby, Cheerio
He is still living with the breeder until she feels he is ready to be taken home. We (my boyfriend and I) are adopting him and Chacci, his little brother. But he acts like a girl so I wanted to get the opinion of the experienced folks here.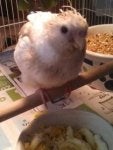 His mother is a white-faced cinnamon pearl
His father is a white-faced pied
His personality is very cuddly, sweet, squeaks when he is getting scritches... Chacci is a boy, no doubt about it. But because of how Cheerio acts I sometimes wonder.
My breeder does not want to do a DNA test - she trusts her methods too much and will be giving him a pelvic exam on Tuesday... I know, I know, but she is very convinced... She also showed me his wings and how there are no spots there or something, and I know that method is iffy as well. So there are the genetics. What do you all think?
Really hoping he's a he so that we don't have to deal with keeping them from breeding..
Thanks!!!!!