Discussion Starter
·
#1
·
Yesterday the tiels went from this:
To this: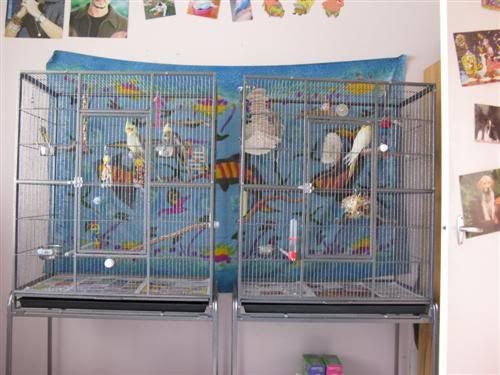 That's right, there are now separate boys and girls rooms for the tiels! I was talking to Laura about Bailee plucking Cookie (which he's still doing), and it got me thinking about how unfair it is to leave Cookie to get plucked because i didn't want to upset Bailee or un-make my master piece.
She's looking so scrappy these days with missing feathers and pin feathers, and she's usually so pretty with her sleek feathers so it's just not fair to leave her in the same cage as Bailee the wife plucker.
The girls have taken to the separation very well!!
They wander around playing and eating and preening. The boys were a little less impressed. I walked in to find them snuggled side by side looking lonely. I think Bailee's trying to figure out how he's going to get any action now that there are cage bars between him and Cookie!