Discussion Starter
·
#1
·
For the last week my grandma has been visiting from Tasmania which has been great....well, in my opinion anyway.
The second poor little Bailee spotted her he just decided that he didn't like the looks of her. He sits up tall and skinny like a pencil and makes nervous peeping sounds whenever he thinks she's too close.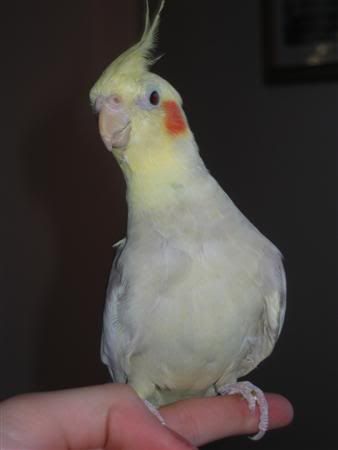 I told grandma that i thought he might be scared of her and she found the idea terribly amusing.
Especially after a rather hilarious incident yesterday.
I had had the tiels out for a while and was just heading up the hallway to put them back in their cage when grandma came out of her room!! Bailee took one look at her and took off as fast as he possibly could back down the hallway. I looked at grandma, she looked at me and we both just cracked up laughing. Poor Cookie was sitting on my shoulder wondering where on earth her buddy had disappeared to and what was wrong with her mummy!!!
I had to wait until grandma was out of sight to quickly get Bailee up to my room and into his cage.
I've never seen him react to a person this way, he usually likes to show off by whistling songs and doing his funky little dance moves. There's just something about grandma. LOL!