Discussion Starter
·
#1
·
My poor little Bailee has sustained a head injury today. Since he's got his wings he's had some issues with windows and has crashed several times though has not yet been injured more than a little bruise on his beak and a small headache. I watch him fly from Cookie to me and see him loving his wings so i didn't want to clip. He's been pretty good not crashing into the window the last few days, but today he did his worst damage yet.
A few times he got spooked by the budgies flying around, and went tearing around the room but i yelled "BAILEE WINDOW" every time he headed that way, and he would change course. Then he got spooked again, and this time absolutely smashed into the window. I raced over and saw half his crest and a pile of head feathers lying in a clump on the floor and my heart just started pounding. I tried to get him to step up and he did but then took off again and very quickly smashed into the window again just as hard. By this point i was nearly hyperventilating and had tears in my eyes. I pulled the blind down which caused him to fly up on top of a cupboard, and then a fetched him down.
He's got a decent bald spot and a nasty bruise. He's been begging head scratches off me for the last hour. I was extremely worried at first, and still am but not so much. He's been preening himself which i don't think he would do if he was feeling really terrible, and he also started a flirty dance for Cookie (though not with the same enthusiasm as normal). I'm not letting my guard down and will keep a careful eye on him, and if he's not looking great i'll get him to the vet for a check. I think he's going to be ok though.
I clipped his wings very soon after the event. In reality i should've done it a while ago when he kept crashing into the window, but he was having so much fun flying around that i didn't want to. I just clipped 3 flights on either side (all his pretty yellow flights are gone now
) to slow him down. If he pulls more crazy stunts then he'll get a full clip, it's just NOT worth the risk of him breaking his neck.
Here are some photos of the poor baby looking a bit sorry for himself, i'm sure he's got a whopping birdy headache.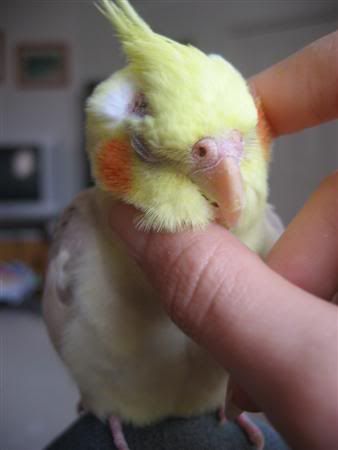 Sympathy scratchies
Still manages to look dorky!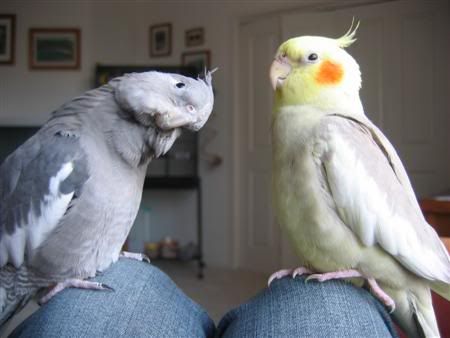 Cookie has no sympathy, she was expecting head scratches.
Bird sign for "maybe we should just chop it off mum"?
If it was me with an ouchy like that i would want frozen peas on it, but i couldn't see that being an option with a little tiel.
Dad suggested a single frozen pea.
Just in the time it's taken me to write this post he's climbed up Fizzy's cage to sit with Cookie, done a little flirting, and seems happier in himself. Hopefully that means his headache is getting less. I will keep you posted on any changes (forwards or backwards).