Discussion Starter
•
#1
•
This is Tweety. Today he lost a bunch of feathers on his face. I would appreciate help knowing what to do.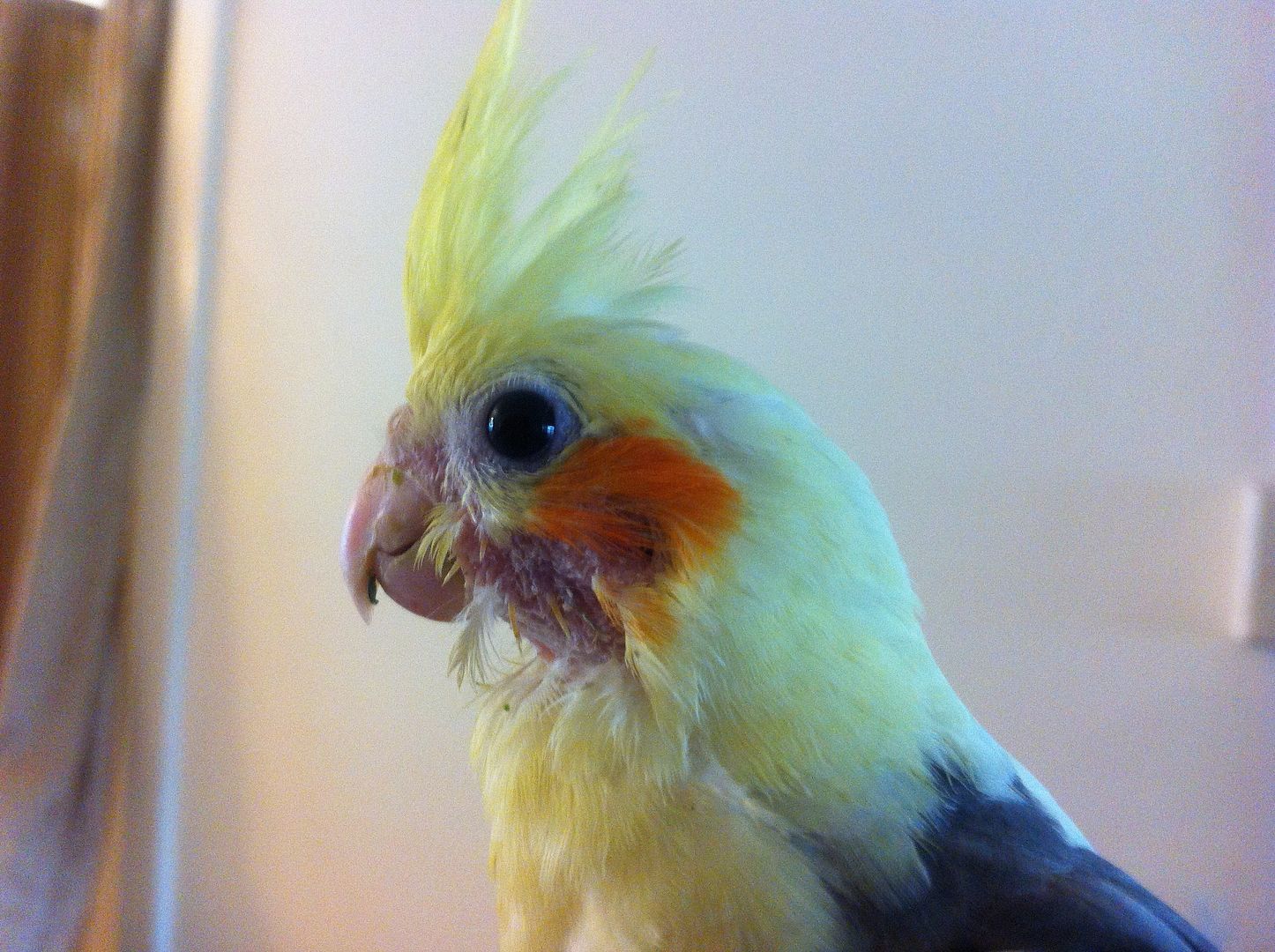 He hatched early March. His parents had lost several chicks who simply stopped growing despite being fed, and after seeing the vet and being declared in good health, this was their "last chance" at breeding for me. I had decided that if this clutch failed I would tame them and keep them as pets or find other pet homes for them. The breeder who sold them to me had shown me the weights and other stats for their clutches before I got them, and they looked good.
They overstuffed the crops (due to my overfeeding because I was afraid I would underfeed and starve them as the chicks grew) and I had to pull them for hand feeding; my first real experience. I had the same problem with the other pair I was breeding and pulled both babies from both nests. Both tweety and his brother are pied, the other clutch were both inos, so I will refer to them as the pieds and the inos.
The inos ate like horses, the pieds had a hard time. They seemed so intent on eating that they flailed like fish and I was afraid of injuring them. I had to restrain them during feeding, and feeding them took 4-6 times as long as feeding the others. They struggled to gain weight, yet the vet said "nothing is wrong" and they were free of bacteria and yeast, etc. I abundance weaned them, and they all weaned at about 10 weeks.
The inos weighed around 115 grams each at weaning, my pieds never broke 80 grams no matter how much food I could get into them. Today Tweety weighs only 68 grams. I had assumed that their low weight was because of my inexperience and somehow not feeding them enough at certain stages or something like that. I used the Exact High Fat Formula. Other than being TINY and never gaining weight, they seem healthy and the vet said they were fine. The flock has been tested for common diseases and is clean.
Today when I saw the balding I moved him into a separate cage, but he was FINE yesterday. I began their gradual clipping yesterday by clipping one flight on each wing, and today the second flight, so they can adjust slowly to the clip and remain confident in their flying, which I have learned helps with overall confidence and personality as adults.
As a chick he was a messy eater, perhaps I did not clean his face off well enough each time and weakened the feathers or caused a skin infection? I dont see any evidence of mites, or any reddened skin anywhere; I am at a loss here, does anyone have any suggestions?
There are NO avian certified vets on the island (I live in Hawaii), so we have to see the "exotic" vets, and even "the good ones" are not worth much as far as birds go, and recent experiences have made me afraid to trust anything they say anyway. I am very frustrated and concerned. Any advice is appreciated.